News
1994 – Shane Douglas would win the NWA World Heavyweight Championship from 2 Cold Scorpio. Chris Benoit, Dean Malenko, and Osamu Nishimura would make their ECW debut during the same tournament. At the same event, Cactus Jack (Mick Foley) and Mikey Whipwreck would defeat Public Enemy to win the ECW World Tag Team Championship. At the time of winning the titles, ECW was meaning Eastern Championship Wrestling, which would change it's name just 6 days later to Extreme Championship Wrestling.
1999 – ECW debuted on TNN and would begin just a 14 month run, when they were cancelled due in part to WWF securing a broadcast contract on TNN. The first episode was a recap episode of ECW history.
2006 – Dixie Carter made her official TV debut on TNA Wrestling to announce that TNA has reached a deal with Spike TV to broadcast through 2012.
Results
1990: SummerSlam from The Spectrum in Philadelphia, PA
– Dark Match: Shane Douglas defeated Buddy Rose
– Power and Glory (Paul Roma and Hercules) (w/ Slick) defeated The Rockers (Shawn Michaels and Marty Jannetty)
– The Texas Tornado defeated Mr. Perfect (w/ Bobby Heenan) to win the WWF Intercontinental Championship (Brutus Beefcake was originally scheduled to compete for the title, but was pulled out after a parasailing incident)
– Sensational Queen Sherri defeated Sapphire by forfeit
– The Warlord (w/ Slick) defeated Tito Santana
– The Hart Foundation (Bret Hart and Jim Neidhart) defeated Demolition (Smash and Crush) in a Two Out Of Three Falls Match to win the WWF Tag Team Championship
– Jake Roberts defeated Bad News Brown with special guest referee The Big Bossman
– Nikolai Volkoff and Jim Duggan defeated The Orient Express (Tanaka and Sato) (w/ Mr. Fuji)
– Randy Savage (w/ Sensational Queen Sherri) defeated Dusty Rhodes. Before the match, Ted DiBiase came out to announce that he had bought out Sapphire. Dusty lost the will to win the match.
– Hulk Hogan (w/ The Big Bossman) defeated Earthquake (w/ Jimmy Hart and Dino Bravo
– The Ultimate Warrior defeated Rick Rude (w/ Bobby Heenan) in a Steel Cage Match to retain the WWF Championship
1995: SummerSlam from Pittsburgh Civic Center in Pittsburgh, PA
– Hakushi defeated The 1-2-3 Kid
– Hunter Hearst Helmsley defeated Bob Holly
– The Smokin' Gunns (Billy and Bart) defeated The Blu Brothers (Jacob and Eli)
– Barry Horowitz defeated Skip (w/ Sunny)
– Bertha Faye (w/ Harvey Wippleman) defeated Alundra Blayze (c) to win the WWF Women's Championship
– The Undertaker (w/ Paul Bearer) defeated Kama (w/ Ted DiBiase) in a Casket match
– Bret Hart defeated Isaac Yankem by disqualification
– Shawn Michaels (c) defeated Razor Ramon in a Ladder match to retain the WWF Intercontinental Championship
– Diesel (c) defeated King Mabel (w/Sir Mo) to retain the WWF Championship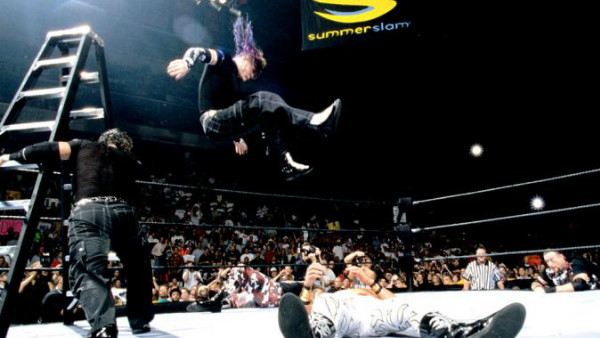 2000: SummerSlam from Raleigh Entertainment and Sports Arena in Raleigh, NC
– Right to Censor (Steven Richards, Bull Buchanan and The Goodfather) defeated Too Cool (Scotty 2 Hotty, Grand Master Sexay, and Rikishi)
– X-Pac defeated Road Dogg
– Eddie Guerrero and Chyna defeated Val Venis and Trish Stratus in a mixed tag team. Chyna won the WWF Intercontinental Championship
– Jerry "The King" Lawler defeated Tazz
– Steve Blackman defeated Shane McMahon in a singles match to win the Hardcore championship
– Chris Benoit defeated Chris Jericho in a 2-out-of-3 falls match
– Edge and Christian defeated The Dudley Boyz (Bubba Ray Dudley and D-Von), and The Hardy Boyz (Matt Hardy and Jeff Hardy) (w/ Lita) in a Tables, Ladders and Chairs match for the WWF Tag Team championships
– The Kat (w/ Al Snow) defeated Terri Runnels (w/ Perry Saturn) in a Stinkface match
– The Undertaker vs. Kane ended in a No Contest
– The Rock (c) defeated Triple H and Kurt Angle in a Triple Threat Match to retain the WWF Championship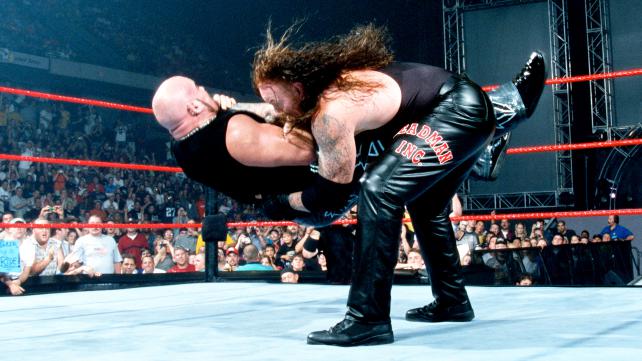 2001: Raw from Van Andel Arena in Grand Rapids, MI
– The Undertaker defeated Albert (w/ X-Pac)
– The Hurricane defeated WWF European Champion Matt Hardy (w/ Lita) to win the title
– Test defeated Bradshaw
– WCW World Champion The Rock defeated Rhyno
– Hugh Morrus defeated WWF Intercontinental Champion Edge via disqualification
– The Big Show defeated Booker T via disqualification
– Chris Jericho & Kurt Angle defeated WWF Hardcore Champion Rob Van Dam & Tazz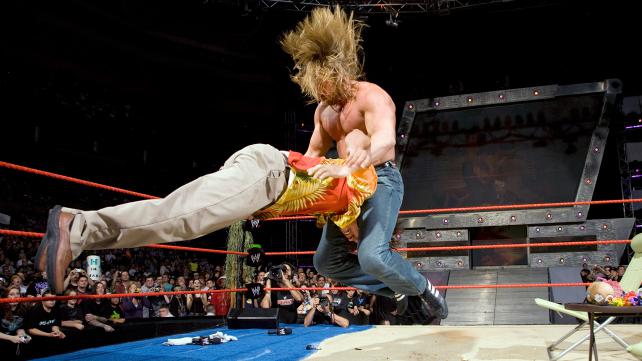 2007: Raw from TD Banknorth Arena in Boston, MA
– Jeff Hardy defeated Mr. Kennedy by DQ
– Brian Kendrick, Cody Rhodes & Paul London defeated Daivari & The World's Greatest Tag Team (Charlie Haas & Shelton Benjamin)
– Beth Phoenix vs. Maria ended in a no contest
– John Cena (c) defeated King Booker (w/ Queen Sharmell) via DQ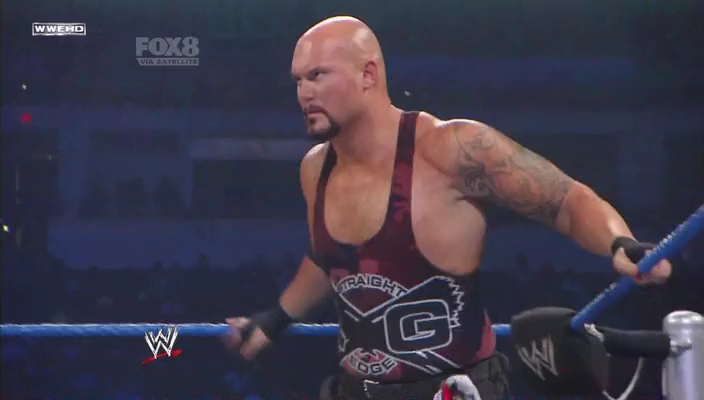 2010: SmackDown from Save Mart Center in Fresno, CA
– Kane defeated Rey Mysterio in a no disqualification Match
– CM Punk (w/ Joey Mercury, Luke Gallows & Serena) defeated JTG
– Kofi Kingston defeated Dolph Ziggler (c) (w/ Vickie Guerrero) by Countout in a WWE Intercontinental Championship Match
– Jack Swagger defeated MVP in a Takedown Challenge by DQ
– Alberto Del Rio defeated Carlos Sanchez
– The Big Show (w/ Kelly Kelly) defeated Luke Gallows (w/ Serena)
– Dark Match: Kane (c) defeated Jack Swagger and The Big Show in a Triple Threat Match to retain the World Heavyweight Championship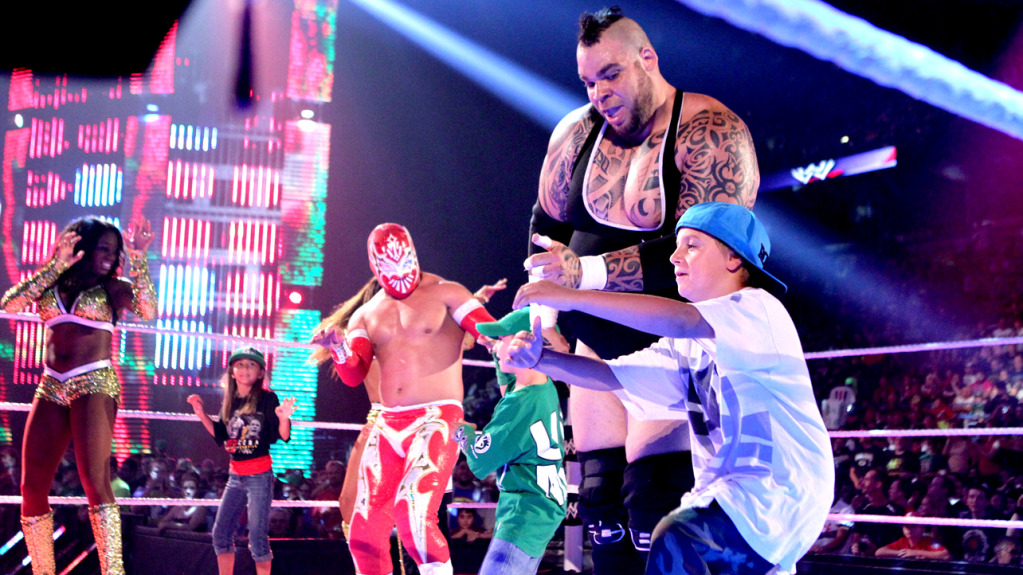 2012: Raw from BMO Harris Bradly Center in Milwaukee, WI
– Ryback defeated Jack Swagger
– Layla defeated Natalya
– John Cena defeated The Miz
– Santino Marella defeated Heath Slater
– Brodus Clay & Sin Cara defeated Cody Rhodes & Damien Sandow
– R-Truth (w/ Kofi Kingston) defeated Daniel Bryan by Count Out
– Randy Orton & Sheamus defeated Alberto Del Rio & Dolph Ziggler (w/Ricardo Rodriguez)
– Zack Ryder defeated David Otunga
– CM Punk defeated Jerry Lawler in a Steel Cage match
– Dark Match: John Cena defeated The Big Show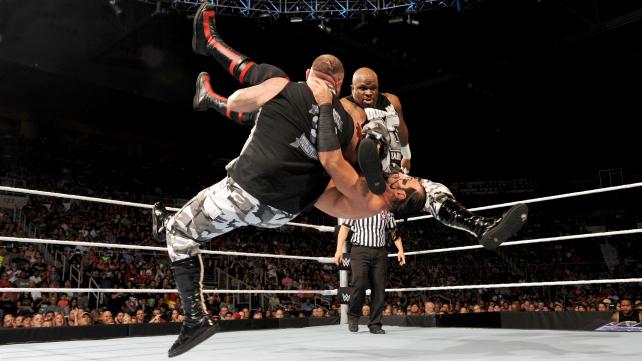 2015: SmackDown from Dunkin' Donuts Center in Providence, RI
– The Dudley Boys (Bubba Ray Dudley & D-Von Dudley) defeated The Ascension (Konnor & Viktor)
– Kevin Owens defeated Neville
– PCB (Charlotte & Becky Lynch) defeated The Bella Twins (Brie Bella & Nikki Bella)
– Dolph Ziggler and Ryback (w/ Lana) defeated Big Show and Rusev (w/ Summer Rae)
– Sheamus defeated Dean Ambrose
2018: Raw from Scotiabank Arena in Toronto, Ontario, Canada
– Finn Bálor defeated Baron Corbin by disqualification
– Baron Corbin defeated Finn Bálor in a No Disqualification match
– Sasha Banks (w/ Bayley) defeated Dana Brooke (w/ Apollo Crews & Titus O'Neil) by submission
– Seth Rollins (c) defeated Kevin Owens to retain the WWE Intercontinental Championship
– The Revival (Scott Dawson & Dash Wilder) defeated The B-Team (Bo Dallas & Curtis Axel)
– Natalya (w/ Ronda Rousey & Trish Stratus) defeated Alicia Fox (w/ Alexa Bliss & Mickie James) by submission
– Bobby Lashley defeated The Ascension (Konnor & Viktor) in a Handicap match
– Dean Ambrose defeated Jinder Mahal (w/ Sunil Singh)
– Roman Reigns & Braun Strowman defeated The Show (Dolph Ziggler & Drew McIntyre) by disqualification
Birthdays
The Great Khali (1972) – Former WWE Wrestler
Sgt. Slaughter (1948) – Former WWE Wrestler
Jazz (1973) – Former WWE Wrestler, currently wrestling in AEW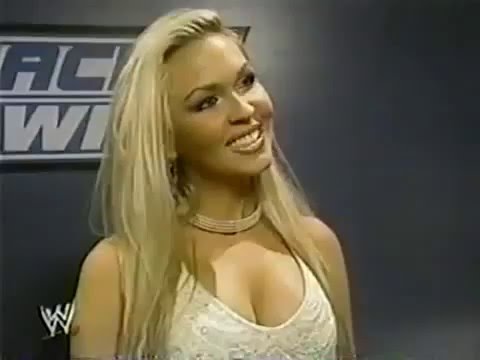 Lauren Jones (1982) – Former WWE Diva after appearing on the cover of SmackDown Magazine with Big Show. She was also one of the last Barker's Beauties on The Price is Right. Since, she has launched her own footwear line.